SERV Local Mission Trip - Atlanta, GA
WHEN
Jun 17 2019 - Jun 21 2019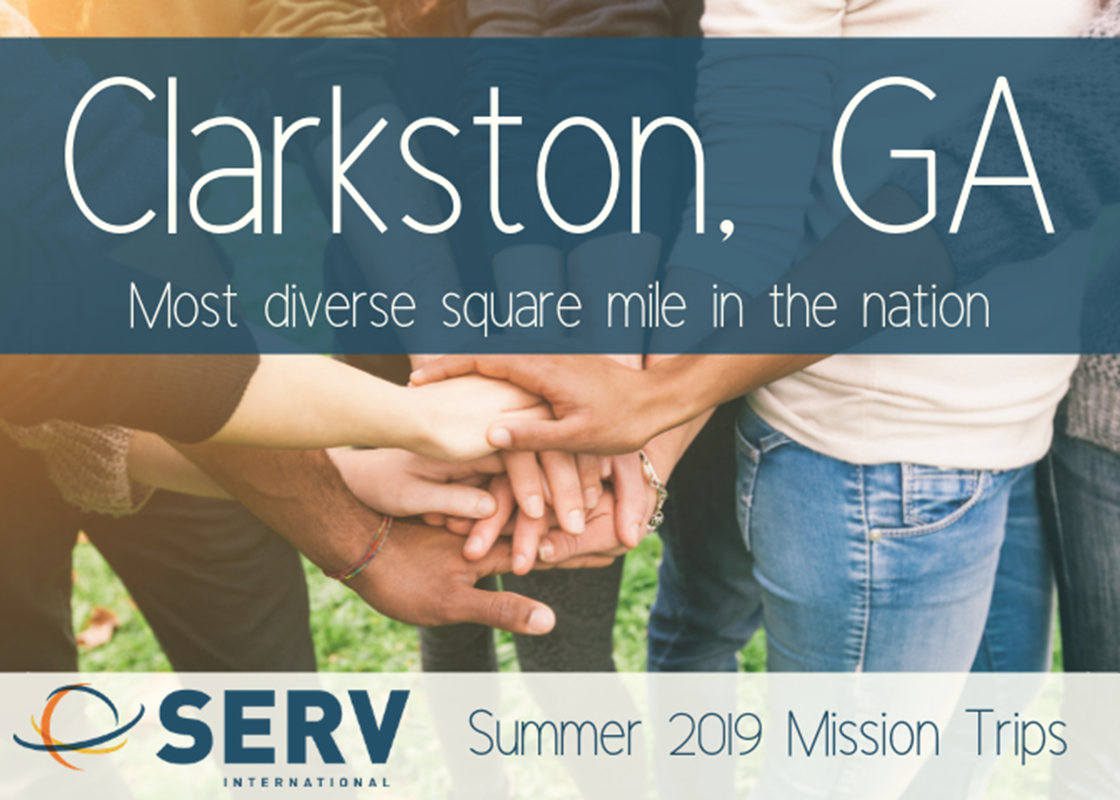 Goal: To share Christ with 54 different nations right here in America.

SERV will be hosting groups right here in Atlanta, GA as we minister to a nearby city, Clarkston, GA, the most diverse square mile in America.  Your group will have a foreign-missions trip experience right here in our own nation and we will be able to fulfill a need to reach these people for Christ.

We will be using sports ministry to reach out to hundreds of kids and teenagers, we will have block parties to create fun environments to share Christ with the families, we will serve the communities by doing clean sweeps to create a cleaner environment, we will go door-to-door and deliver SERV Food Local Boxes, we will restore homes of families by doing home makeovers, we will host VBS for 500+ kids in the community and so much more.

We would love for you, your church, your youth group, your small group, your college group, to join us one week this summer.  Contact Hope Andrews at [email protected] for any questions or for more information. 
​​​​​
Here is an idea of what the week will look like
(You will have a group devotion every morning before breakfast and night before bed)
Mon - 
2pm Arrival
Orientation
VBS and outreach preparation for the week
Dinner 
Worship 
Tue 
Breakfast
VBS 
Lunch
Outreach in the community (work project, clean sweep, SFL distribution, sports ministry, or block party)
Dinner
Movie on the Lawn
Wed 
Breakfast
VBS 
Lunch
Outreach in the community (work project, clean sweep, SFL distribution, sports ministry, or block party)
Dinner
Worship Night
Thurs
Breakfast
VBS 
Lunch
Outreach in the community (work project, clean sweep, SFL distribution, sports ministry, or block party)
Dinner
Movie on the Lawn
Fri
Breakfast
Morning devotion and debrief
Block Party
Lunch
Final worship & goodbyes 5pm
Sign Up
18 going
32 spots left
SUPPORT US
Fundraising Goal:
$385.00
Contact Info
Hope Andrews
(770) 516-1108
Financial
Total cost
$385.00
Due 6/17/2019
Milestones
| | | |
| --- | --- | --- |
| | | |
| | | |
| $50.00 | | Security Deposit Due 1/1/2019 |
| $335.00 | | Payment Due Due 5/7/2019 |
Forms
Release Forms to Officially Sign
Required
Please sign these forms and scan them back in or email them to [email protected] We legally need a hand-signed copy.
Requirements
Prerequisites
Teams will prepare in advance to host a 3 day VBS (materials will be supplied)
Responsibilities
Each member will participate in the daily VBS, work projects, and ministry actives.

Teams will be responsible for their own form of transportation.
Restrictions
Must be willing to "unplug" from internet/phone usage
Preparation
Team meetings

Fundraising
Stories
No stories have been posted for this opportunity yet.